The Vikings Sailing Club (VSC) was founded in 1984 by the late Hector Borg Carbott and a few friends as a non-profit organization. The Club is run by volunteers, with the objective of facilitating and promoting sailing especially with the young, promoting good sportsmanship and seamanship and organizing racing, social, educational and informative activities which aim to foster the love of sailing. The club holds year round beginner sailing courses as part of the Sportmalta on the move program and also offers other more advanced courses for sailors interested in competing both locally and abroad.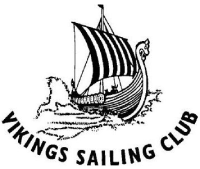 Our clubhouse is situated at Haywharf, next door to the AFM Maritime base. Our premises are not large but they house all our fleet and some members' boats. We are still refurbishing our premises and hope to soon have a proper classroom where to hold our theory sessions and pre and post session briefings. We have a spacious roof on both our garages where we hope to soon hold some social events for our members.
The Vikings committee is currently composed of 8 members. Although each has their role in the committee, all members assist each other whenever required. At Vikings we are one big family!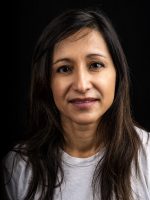 A marine biologist in love with the sea and sailing who joined the sport by chance over 20 years ago where she crewed for many years on J boats during both coastal and offshore races organised by the Royal Malta Yacht Club. Sandra was also a member of Vikings at the time and would spend her summer holidays sailing Mirror 10s. After taking a pause from regular sailing due to family and study commitments, she resumed contact with the sport when her son showed interest in sailing and joined the Vikings Sailing Club five years ago through the SportMalta On the Move Program. Sandra herself also sails regularly on her laser. She was co-opted to the Committee in 2019 after taking it on herself to get the Club enrolled as a voluntary organisation. She was voted in as commodore in March 2020 and again in 2021 and is the Club's representative on the Malta Sailing Federation Board. Her aims are to rebuild the club to its former activity by providing rich sailing experiences to all sailors,  from just fun with friends to competitive racing.
Sandra oversees all the work of the committee and staff, is in charge of Sponsorships, EU funding, Partnerships, certifications, Child Welfare and Human Resources. She is also part of the Club's Race Management team.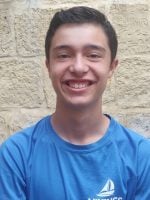 Daniel, a keen laser sailor is the youngest member on the committee. He started sailing at the age of 10 years on the sportmalta on the move programme later moving to advanced sailing and joining the laser racing group. Daniel also participated in the Topper worlds in Garda in 2022 as part of the Maltese team. Daniel is also a seasonal coach at the club during the summer months and is also involved in the club's disability sailing programme.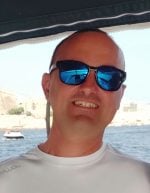 Jonathan's passion for boating began at a very young age, where his childhood summer months revolved around fishing on his father's boat and cruising around Malta and Sicily on an uncle's boat.  His own first craft as a young child was a double-handed canoe, but during one day when Jonathan was struggling to paddle against a breeze across Mellieha Bay, only to see two kids sitting leisurely on a Mirror 10, gliding past effortlessly, he knew that very moment that sailing was what he wanted to do.
He started to sail at Vikings as a teenager on a Miracle class sailing dinghy. He has golden memories of spending entire days at Vikings with a bunch of like-minded friends, doing activities ranging from round the buoys racing, to longer distance adventure cruises to Mellieha and Gozo, night sailing, taking beginners for sail tasters, building and maintaining boats, to several Spaghettatti and dinners that the club was famous for in its heyday. Eventually Jonathan moved on to yacht racing, then started a small business in yachting, first offering charters and now specialising as a sailing yacht broker and private yacht sailing tuition provider.
Jonathan believes in being passionate in what one is doing, and he is likewise passionate about education where he lectures and gives training in Personal & Professional Development, and he is also passionate about environmental matters and cycling as a means of commuting where he is active in a number of voluntary organisations in this regard. Jonathan's return to Vikings came when his 7 year old son Jean-Marc expressed interest to start sailing on his own whilst following friends racing in the Middle Sea Race of 2021 and so Jonathan enrolled his son in Vikings' SportMalta's Winter Term. This spurred Jonathan onto feeling the need to volunteer to help recreate a niche club environment which is not about intense competition, but where persons, and especially youngsters, can balance becoming better sailors with developing personal life skills, whilst having fun, socialising in a healthy family oriented environment, forming friendships and enjoying the beautiful variations in our sport – whether a child is after the competitive element of racing, or whether a child prefers cruising around by simply enjoying sailing a variety of boats, both single handed as well as double-handed and larger team-boats.
Jonathan oversees all the training courses run by our club and is responsible for quality assurance. He forms part of the race management and HR teams.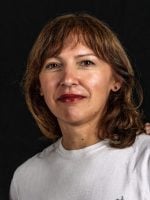 An IT consultant helping companies to build their data warehousing and business intelligence solutions during the day and enjoying dinghy sailing and the sea in free time. Jasminka always wanted to try sailing but started only about 5 years ago while she was looking for a good summer course for her daughter to get introduced to sailing, and discovered there was an adult course too at Vikings, which she decided to try out. The moment they put her on a topper she got addicted and enjoyed sailing ever since. Nowadays she enjoys sailing for fun with club members on her Laser Radial and promotes sailing to those who like to try sailing through Sailing with the Vikings Women courses. She has been in the Vikings committee since 2019 and works towards rebuilding the club.
Jasminka has the challenging task of managing the club's finances and keeping our accounts and payment records up to date. She also assists in the coaching when required.
Andrea is responsible for the club's fleet of sailing dinghies and ribs. A hands on person, he is tasked with ensuring our fleet is in good working condition.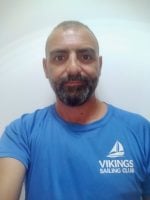 Francesco is responsible for organising social sailing (non racing) activities.
He is an IT professional who has discovered a profound passion for sailing. When not immersed in the world of technology, he dedicates his time and expertise to his beloved sailing club.
At the club, Francesco's primary responsibility is organizing thrilling cruise activities, ensuring unforgettable experiences for members.

In addition, he plays a role in coordinating various events and contributes to the general maintenance of the premises. Beyond his contributions to the club, Francesco also holds the esteemed title of the official pasta chef, delighting fellow members with his culinary creations.
With an unwavering commitment to the sea, Francesco combines his organizational skills with his love for sailing to create a vibrant and engaging atmosphere for all club members.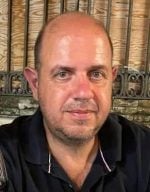 Kenneth oversees all racing activities run by the club including club races and is responsible for issuing NORs and club race results and reports on our website. He is also a member of the club's race management team together with Sandra and Jonathan who oversee our club's participation in local ranking events and abroad. 
At Vikings we have a team of very dedicated coaches who share their love for sailing and pass on their knowledge and sailing skills to hundreds of sailors who attend our courses every year.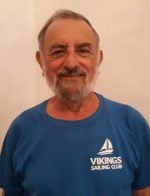 Ernest is our veteran sailing coach. He has been with Vikings for several years and has taught hundreds if not thousands of sailors how to sail, many of which are still sailing to this day!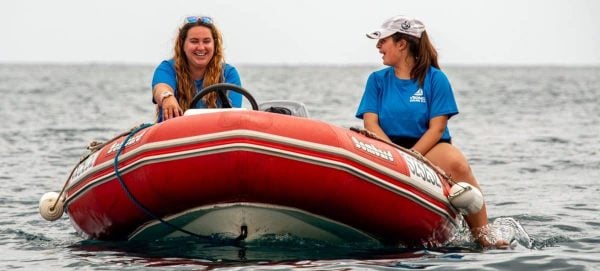 Junior Coaches and Helper Team
Daniel Agius, Angele Vella, Andrea Vella and Paul Bonnici are our Junior coaches currently in training while Benjamin Borg and Noah Galea and Toby Piasecki make up our current helper and are being introduced to basic coaching skills.